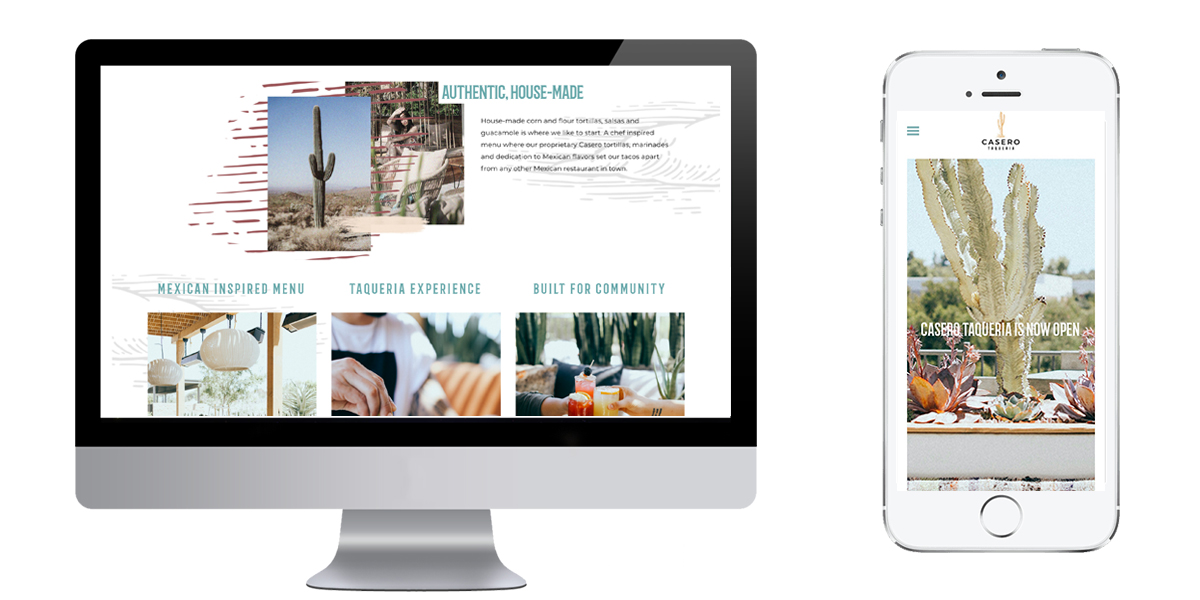 There's a lot of reasons to love Squarespace websites—ease of use, cost, built-in mobile responsiveness. However, as many who've encountered this platform can tell you, Squarespace doesn't offer the same level of customization as say WordPress … but we don't let that stop us from creating Squarespace websites that reflect the brand we are working with, help it stand apart from other Squarespace-built sites, and just look good. Needless to say, we love to inject a little extra personality into our websites. Case and point:  Casero Taqueria.
If you have followed along with us in the past, we've covered the WordPress versus Squarespace debate. In case you're new, we consider ourselves website platform agnostic … that is, we see that each platform (including Shopify and others) has their own merits and purposes. Our Coast Creative digital marketing team typically finds Squarespace to be the perfect solution for businesses and brands that:
1) want a one-stop-shop for website builds. Squarespace offers the website templates, content management system, hosting and even e-commerce options.
2) want to manage their own website post-launch. Squarespace requires no coding experience (or coding at all!) and basically no opportunity to "break" a website. Which if you've dealt with WordPress you know can be frustrating.
3) who have a smaller budget allocated for a new website. It's simply a fact that a Squarespace website is going to be less expensive than both WordPress and Shopify.
Ok, now back to the point: Because Squarespace offers a limited amount of templates (currently Squarespace lists 22 different options), it's important to take a few extra design steps and coding to differentiate a website. For Casero Taqueria, it was our goal to translate the brick and mortar vibe to the new website.
Specifically, we added custom, yet subtle backgrounds to the website in order give extra visual appeal while scrolling. We used a similar tactic with Charlotte-based Toccare Day Spa and Banyan Kitchen & Cafe in San Diego, and as you can see the actual design of background alters the vibe from site to site.
We also enhanced the actual website images before placing them on the site. Sometimes this serves a completely aesthetic purpose (Casero Tacos) and sometimes it allows us, the designer, to achieve a more branded site or a site that explains better the details of a company. Check out how we leveraged this technique to better explain the process to join Fit 4 Prevention (a campaign of Keep A Breast). Enhancing an image first means you can add branded numbers (like our example), identify who/what is in a photo, add borders or even soften borders. There's no limit to how you can design an image.
Brands, restaurants, people … they're spending a lot of time curating a positive experience for customers. For Casero Taqueria, we wanted to be sure that the experience was translated in the digital world. When someone visits www.caserotaqueria.com, we are confident they will come away with an understanding of their company, style and level of quality.
As of posting, Casero Tacos has had an amazing opening season and garnered a strong social media following, quality website traffic and, of course, plenty of good reviews.
If you have any questions about customizing an existing website or finally want that new site, we'd love to hear from you. hello@thecoastcreative.com