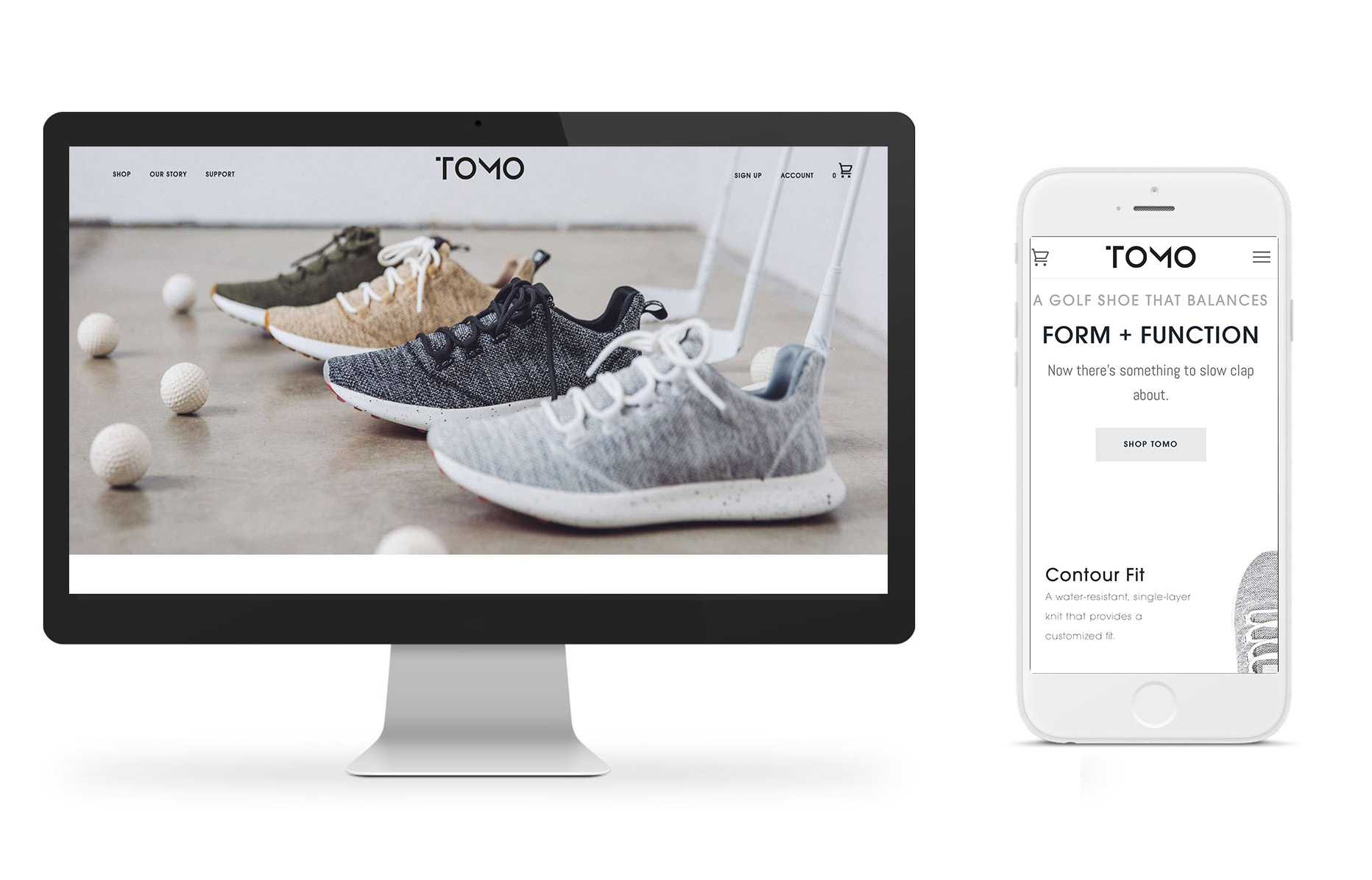 TOMO Golf founder, Sunny Chou, is changing the golf shoe game. Going up against the Nikes, Adidas, Eccos of the golf world, he has created a shoe that is at once incredibly comfortable, uniquely affordable and definitely on trend. Coast Creative joined the TOMO team to deliver a Shopify ecommerce website that would match the high quality golf shoe.
In spring 2018, Coast Creative was tapped by TOMO Golf creator, Sunny Chou, to build an ecommerce website that would be the first and only channel to sell this unique golf shoe. Like the company's shoes, this website had to have both form and function. In other words, it had to look good, but function at an optimal level to achieve sales. As this product was to be sold 100% online (at time of launch), it was extremely important that it was fast, easy to navigate and completing purchases without any hiccups.
And, that's exactly what they got. The Shopify website utilizes a clean and minimalist design—reflective of the company's aesthetic and overall branding. Because the FLEX soles are one of TOMO's defining features, we included an effective interactive feature where the shoe is broken down upon scrolling. Visitors are drawn to learning more with about the shoes without forcing them to scroll through a long, cumbersome website. Simply put, we wanted to visitors to see and understand the TOMO difference, but not delay them from moving on to the shoe selection part of their visit.
As an ecommerce shoe company, Sunny has the challenge of explaining the fit, feel and function of a product that people don't have the chance to test.
A video shot by Studio Luniste (also the photographers behind the TOMO product shots) was highlighted on the homepage to really illustrate TOMO's primary benefits.
Additionally, custom product pages were created, Instagram was integrated, iconography included and and eye-catching stop motion used throughout. We are a mobile world, so of course TOMO was created with mobile users in mind aka it's mobile-optimized. Lastly, but not leastly, we completed backend SEO optimization for enhanced searchability and to aid in our digital advertising efforts.
The Takeaway: Start healthy. We built TOMO Golf's website with the intention to do one thing: Drive sales. And if you're using a Shopify website, it's probably a good idea that you do too. When you're building, make sure the site is optimized to move quickly, is crawlable (so important!) and easily navigated. You never want to lose a customer because they couldn't make their way from reaching your website to purchasing your product.